The Area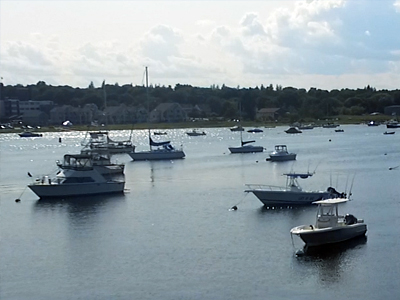 Boating:
The Merrimack River and the surrounding area provide spectacular scenery for cruises. Near Cove Marina and accessible only by boat, you can experience great fishing, sandbars, beautiful sand beaches and elevated rocks to jump off into the water. We are also short distance from the legendary Isles of Shoals as well as the beaches of Salisbury, Plum Island, Crane, Seabrook and Hampton. If you are passing through the area we close to Portland, Kennebunkport, York, Kittery, Portsmouth, Rockport/Gloucester, Boston, the Cape Cod Canal and Cape Cod including Provincetown. Cove Marina is an easy stop over and a welcoming place to pull your boat in for the night, week or the season.
Fishing:
If you like fishing and love catching fish you will be at home here. The Merrimack River is loaded with striped bass throughout most of the boating season and people catch them daily. Outside the river boaters frequently fish for giant tuna, smaller tuna, sharks, cod, haddock and more. Cove Marina has many friendly boaters that fish recreationally and like to talk fishing.
Wildlife:
In the area surrounding Cove Marina you will see lots of wildlife when you are looking. Many people enjoy whale watching and whales are often seen near the mouth of the river. Cove Marina is a great location for bird watching and guests observe numerous species overhead and on the water. Additionally, there are turtles, skates, sand dollars, and much much more to enjoy in the area.
Dining:
Within walking distance you will find restaurants of all flavors. From bargain food to fine dining, there are selections available to satisfy your palette. You can view the selections ahead of time or ask for suggestions upon arrival. There is adequate transportation available for those that don't want to walk.
Events:
There are numerous events in the area including the Music Festival, Yankee Homecoming, Newburyport BluesCruises and more. For more information about local events please visit:
https://www.salisburychamber.com
https://newburyportchamber.org
Explore on foot:
Cove Marina is located directly next to the Rail Trail and its extensions ranging from Newburyport to Amesbury, MA. Downtown Newburyport is a short walk from the marina and the Rail Trail is a safe way to cross the river and avoids traffic. In less than 10 minutes you can find great restaurants, shopping and historical sites. Some people venture over on foot and get transportation back.
Nearby and Transportation:
Ask us if you want something specific, in close vicinity there are all types of activities to suit your needs. Local taxi, Uber and Lyft operate in the area to get you to your desired location.